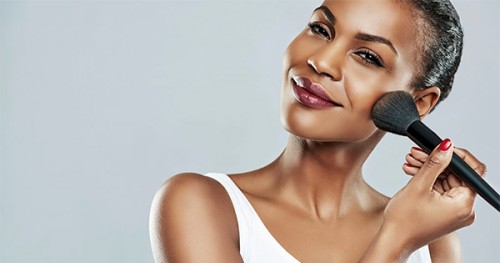 It's hard to know which beauty products you should be spending your hard-earned (and sometimes limited) cash on. We know many of our beauty yearnings are impulsive but there are some beauty items that a pretty, and accomplished gal like you can't possible live without. So here's a checklist of ten absolute must-have makeup, skin and hair products.
Sunscreen
If Sunscreen is not a daily necessary routine for you, especially as a lady, then it means that you that you are at a danger of sun exposure. This summer has been especially sunny, if you are out having fun or working, your body needs protection from the heat. Despite the fact that the dangers of sun exposure are well documented, from sun spots and darkening to wrinkles and photo aging. Unlike earlier (Back in the old days), sunscreens that were greasy and heavy. The new gen formulas are lightweight and pack a bunch of skin benefits too. From moisturizing and nourishing to doubling up as foundations, you can now pick one that suits you best. Try Neutrogena UltraSheer Dry Touch Sunblock SPF 50+ (for oily skin) or Olay Total Effect Touch Of Foundation Spf 15 (50 gm) (for foundation-cum-sunscreen).
Face And Hands Wipes
Corona Virus has made hand wipes a popular and necessary commodity as surface and hands have to be wiped to prevent spreading of the disease. So many people are now conscious of wiping their hands. For women, especially those with make -up, it is advisable to wipe your face thorough, before and after you use make-up. You're sweaty and grimy. You are too tired to take your makeup off. You've spent hours on public transport, holding on to grubby rails. Facial wipes and hand wipes are life savers you simply have to keep handy. Sleeping in your makeup is an absolute no-no and the worst thing you can do to skin (besides eating junk and smoking). Keeping hand wipes handy is the best way to stave off germs that can cause colds and infections. Enough said! Just pick up a pack of Kara Cleansing And Refreshing Wipes With Neem And Tea Tree (10 Wipes) and Kara Hand Sanitizing Wet Wipes With Triclosan And Aloe Vera (10 Wipes).
Concealer
Instead of losing sleep over dark circles, moaning over every pimple and or redness, it's time to learn the magical art of concealment! Masking minor imperfections like the odd blemish and an uneven skin tone is the key to flaunting a flawless complexion at meetings, the boardroom, the classroom or over brunch. End your search for your newest concealer BFF, right here. We love Maybelline New York Fit Me Concealer for minor imperfections and L'Oreal Paris True Match Le Crayon Correcteur to cover larger blemishes like dark circles.
Red Lipstick
Ever heard the saying "Red Lips always Wins?" Like your favourite scent, every girl needs a red lipstick in her life which pretty much covers all the bases. A Red Lipstick makes you look sorted and confident at important meetings, adds all the necessary glamor to a party look, and generally makes you feel like a million bucks. Just take your pick of fire engine red lipstick or any other shade that suits your complexion best. Then sit back and enjoy the envious glares that may come your way as you drift around in Lagos.
Mascara
If anything can make you look instantly glam and ready to face the day, it is mascara. Despair not if your natural lashes are not show-stopping worthy. Fake a long, curly, sweeping, thick or voluminous fringe thanks to a dizzying array of formulas at quick reach. For long, luscious lashes try Flower Beauty Lash Warrior Mascara. For curls made in heaven give Lakme Eyeconic Curling Mascara go. For unbelievable glamor just swipe on a coat of each. Vrah Vrah Vhoom!